Mech Solutions Set To Attend "The Olympics of Tech" – Collision 2022 Conference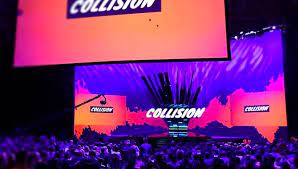 More than 900 speakers, 1,500 startups, 1,200 journalists, 850 investors and 100 unicorn companies will arrive in Toronto from 140-plus countries for the three days of Collision to make meaningful connections face to face.
Founders and CEOs of the world's most successful tech companies – Substack, Ethereum, Blockchain.com, Flexport, Cardano, Tezos, Binance, BlockFi, Chief, Calendly, Clearco, Cloudflare and more – will speak across Collision's 20-plus onstage tracks, including on the new Crypto track. Meanwhile, 120-plus national, regional and local trade delegations will participate in Collision to explore business opportunities with a global audience.
Deel, Canva, Trulioo and FalconX are among the more than 100 decacorns and unicorns that will be in attendance and on stage at Collision in what many call "one of the best shows for up-and-coming startups".

Mech Solutions & Cloud 3D Print
Starting operations in 2017 as a 3D Printing e-Commerce company, Mech Solutions has observed exponential growth since. For several years, the R&D team of Mech Solutions has worked to bring innovative solutions to the process of 3D printing. Mech Solutions' experts are continuously involved in such novel solutions to remove the barriers in the 3D printing process
The experts at Mech Solutions emphasized that the deployment of an Intelligent System is essential in 3D printing since managing multiple 3D printers simultaneously is a laborious process. As a result, Mech Solutions developed a deep learning engine to identify failure and conduct 3D printing quality assurance. This intelligent platform has helped the community to analyze, manage and automate their 3D printing processes. The trained AI model has been successfully deployed to the Mech Solution's Cloud 3D Print platform and serves a wide variety of educational institutes and 3D printer farms all over the world.
What Is Cloud 3D Print?
Cloud 3D Print is an all-in-one 3D printing platform that consists of four systems- PLM, MES, ERP & CRM – and is considered the most useful IT solution for enterprises, businesses, and educational institutes in the industry. The users can simply access Cloud 3D Print through the web browser  either on a desktop or a mobile device. In the near future, Mech Solutions is also focusing on developing iOS and Android apps to make 3D printing even more accessible.

Collision Goals
Mech Solutions is looking to showcase the Cloud 3D Print platform in a way that not only displays value to those already in the Additive Manufacturing industry, but also to those who are unaware of the technology's capabilities.
As a startup, exposure is key, and for many startups, the exposure is rooted in their industry. Established industries like fashion, blockchain, and social platforms drive users through their natural cultural success and current acceptance. Additive Manufacturing, otherwise known as 3D printing, has yet to catch on and integrate itself into society.
Much like the internet, 3D printing is in it's infancy still and widely misunderstood. By showcasing the practical real world applications of 3D printing, as well as providing a platform for user-friendly adoption, Mech Solutions is looking to revolutionize manufacturing by putting the power in the hands of the individual. Like many startups, disrupting the market is key, and Cloud 3D Print is sure to draw some attention at the